The Roe Group & North West Steel Limited
Supplier of steel reinforcement related accessories and specialist construction products.
Processing of steel reinforcement to BS 8666 and BS 4466

Stocking and distribution of BS 4449, BS 4482 and BS 4483

Application of Erico Lenton Taper Thread standard (A12 ) and positional (P13 and 14) mechanical couplers to CARES Appendix TA1-B: BS 4449 B500C, size range 12 to 40mm and BS 4449 460B or B500B, size range 12 to 40mm.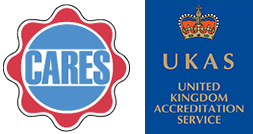 The Roe Group ensures we meet all relevant ISO standards, British Standards, CARES and statutory legislation and regulatory requirements in respect of the supply of steel, mesh and associated products.
To view individual CARES Certificates of Approval please click on the Certificate (PDF) that you wish to view: